By Matthew Russell Lee

UNITED NATIONS, November 19 -- Following the election of Donald Trump on November 8-9 UN high officials, one of them told Inner City Press on November 14, "have been freaking out. They don't know how much is going to be cut, and from where."

Here's a suggestion, based not only on Inner City Press' personal experience at the UN (NYT here) -- including now not only the violation of the UN mailbox to which people all over the world have written to Inner City Press but also the unilateral seizure of the mail in it by the UN -- but also interviews with staff, diplomats and elected officials: if there is one UN Department to be cut, even eliminated, it is the Department of Public Information (DPI).

Since Cristina Gallach of Spain took DPI over, as Ban Ki-moon's attempt to ingratiate himself to Spain during its now-ending UN Security Council term, it has not only evicted the investigative Press without any due process or appeal, it has most recent named as the UN's gender empowerment ambassador not an actual person but rather a cartoon character, Wonder Woman.

Gallach, after not consulting with staff or even the top of UN Women, ignored the staff and mission protest to her ceremony promoting a forthcoming movie.

Now in a move surprising even to Inner City Press, its long time mailbox on the UN's third floor had the "Inner City Press" sign removed and all of the mail in the box was taken. It was to this box that whistleblowers, many of them from inside the UN system, sent information to Inner City Press.

For the UN to believe it can seize the correspondence in a journalist's box is a new low, even for Gallach and Ban Ki-moon. We'll now be running examples of the type of corruption complaints submitted, concerning Ban Ki-moon and his promoted son in law, Gallach and other Ban officials.

During a recent meeting in the UN of representatives of the UN Information Centers, a participant called Inner City Press aside and said, among other things, that if they were seen with Inner City Press they would "pay the consequences." Who runs the UNICs? Gallach.

Before Gallach put a target on Inner City Press for daring to ask her about her role in the UN bribery scandal, there were other Department of Public Information officials in communication with Inner City Press, on how and why this changed we'll have more. The UN Department of "Public" Information has become a parody of its title under Gallach, now to the point of seizing the Press' mail.

In terms of outright corruption, even the UN's Office of Internal Oversight Services audit of the John Ashe / Ng Lap Seng ongoing bribery case found that Gallach did no due diligence of at least two Ng Lap Seng funded events in the UN, including involving the UN's slavery memorial.

Three strikes and you're out. Further, why does the UN need its own propaganda arm? It debilitates UN officials to think they can avoid the actual Press and do softball "interviews" with the UN's own media. There are some good people in DPI, and not only they but some of their functions could find homes in other Departments. But as of today, and in the near future, the UN Department of Public Information should be cut. We'll have more on this.

As Antonio Guterres prepares to take over as UN Secretary General from Ban Ki-moon on January 1, one litmus test will be whether those Ban-era officials implicated in corruption like the Ng Lap Seng / John Ashse UN bribery case are moved out, or retained for political reasons.

Here's the test: while Cristina Gallach of Spain, to whom Ban Ki-moon gave the top job at the UN Department of Public Information in an attempt to ingratiate himself to Spain which had just come onto the Security Council, is repeatedly criticized in the UN Office of Internal Oversight Services audit of l'affaire Ng Lap Seng (here at Paragraphs 37-40 and 20b), and summarily evicted the investigative Press for asking her about her role - will she remain?

Rajoy of Spain may want to keep an Under Secretary General, but is retaliatory incompetent Gallach the right one? Why not give Spain the UN Disarmament USG post, if they get one at all? Gender parity cannot be made a pretext to protect corruption and censorship. Busca una otra.

Sources tell Inner City Press that Gallach's previous boss and protect, Javier Solana, may try to play his Socialist Party cards to keep her on. But is that appropriate?



Cristina Gallach with indicted Franciso Lorenzo, asked then evicted Press

As the UN bribery scandal gathered force Secretary General Ban Ki-moon called for an audit by the UN Office of Internal Oversight Services of Sheri Yan's Global Sustainability Foundation (GSF), David Ng Lap Seng's Sun Kian Ip Group and its affiliates including the "World Harmony Foundation" and South South News, among others.

The audit, completed early this year but first put online by Inner City Press, directly criticizes Cristina Gallach, the Under Secretary General for Communications and Public Information, Paragraphs 37-40 -- and 20b.

This last concerns the lack of any due diligence by the UN Department of Public Information under Under Secretary General Cristina Gallach of Ng Lap Seng's GWF's sponsorship of the "Ark of Return" ceremony.

Now in November, a person charged along with Ng Lap Seng, Jeffrey Yin, has made a motion to suppress what he said when arrested in September 2015. His motion says among other things that he was awake for more than 24 hours. Whether it would furhter push back Ng's trial, already put beyond the time when Ban Ki-moon, on whose watch it happened and whose Secretariat including Gallach bear responsibility, is not yet known.

Even in January, Antonio Guterres will have taken over from Ban Ki-moon. Will Guterres move past Ban Ki-moon's only partial cooperation -- and Ban's and Gallach's retaliation against Inner City Press for having dug into each of their roles in the scandal since October 2015? In that month, Inner City Press asked Gallach about her role in the South South Awards with South South News' Francis Lorenzo. Video here.

In February 2016, on the thinnest of pretexts and without once speaking with Inner City Press, Gallach ordered it out of the UN on two hours notice, then evicted its long time office in April. South South News, described in the case as a conduit for bribery, remains in its office, never asking any quesitons at the UN, like Egyptian state media Akhbar al Yom to which Gallach purports to give Inner City Press' office.

Gallach herself must go - but will she? How, for example, would the laudable ideal of gender parity apply to incompetent or corrupt holdover official? We'll have more on all this.

On August 23, 2016, the International Day for the Remembrance of Slavery and its Abolition, Inner City Press asked Ban Ki-moon's spokesman Stephane Dujarric, UN transcript here

On June 29, Inner City Press asked UN spokesman Farhan Haq about it , video here, UN transcript here and below.

On August 11, lawyers for Ng Lap Seng filed in Federal court their formal demand to the UN and Ban Ki-moon's chief lawyer Manuel de Serpa Soares to produce a slew of financial and other information, including all of its communications with South South News.

SSN is described in the file, by the prosecution, as a vehicle of bribery but the UN has left it in its office -- a conflict of interest -- while evicting Inner City Press which asked questions about it. Ban Ki-moon's UN is corrupt. We'll have more on this.

On July 29 Shiwei Yan a/k/a Sheri Yan was sentenced to 20 months in prison, was fined $12,500 and forfeited $300,000. U.S. Attorney Preet Bharara's press release, here.

As this player in on UN scandal was sentenced, the UN outright stonewalled on basic Press questions about a news scandal, while having evicted the questioning Press and confining it to minders. Then it said the event was canceled as a basis to answer no questions.

This is Ban Ki-moon's UN: Ban attended Sheri Yan's father's one person art show, had his photo taken at it. See here.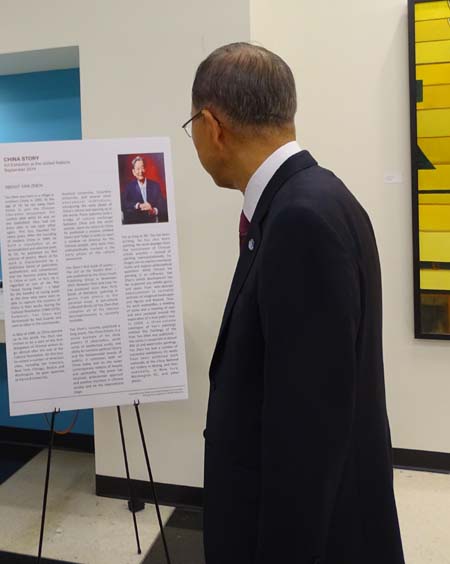 Ban and Yan's bio, credit via photo links

The UN claims the Ng Lap Seng and Sheri Yan case has nothing to do with it or especially Ban, who wants to run for President of South Korea. But this is false.

Ban is allowing new privatization of the UN, through UN Security; his spokesman is trying to discourage questions about it by accusing Inner City Press of "unethical Googling," after having played a role in ousting and evicting Inner City Press. This is Ban's UN.
From the prosecutor's new letter:

"in an email dated on or about March 12, 2010, an individual affiliated with the State Council Information Office, an entity of the PRC government, sent an email to a business associate of Ng, containing a draft letter (in Chinese) for Ng to sign or approve. According to a draft translation prepared by the Federal Bureau of Investigation ("FBI"), the letter, which began with Ng introducing himself as a member of Chinese People's Political Consultative Conference ("CPPCC"), a political advisory body, and as the "Chairman of the Board of the United Nations South South News," stated in pertinent part:

[quote] my greatest wish is to fairly and objectively report the social development, religion, culture, and ideology of China through the South South News, a global media platform authorized by the UN, to display China's soft power, counter malicious, distorted news by anti-China forces, and let the whole world hear a true voice that comes from China to understand the real China. . . .

. . . I will select suitable regions in China to establish a South South Cooperation Organization International Conference Center and a South South News Network Media Production Center as a base of operations for South South News.

Hope that the plan to establish two centers and the development of South South News in China can obtain strong support from the government of China. [unquote]

As the Court is aware, South South News, the entity described in the above email, is the conduit through which the Government alleges that defendants Ng and Jeff C. Yin funneled some of their bribe and money laundering payments."

So it says South South News was "authorized" by the UN; the prosecution says Ng and Yin used South South News as a conduit for bribery in the UN. And as of July 8, South South News still has its UN official from Ban Ki-moon as Inner City Press while investigating it was evicted and is now restricted to only cover events on the UN Conference Building's second floor -- ECOSOC and the Trusteeship Council Chambers, the General Assembly and General Assembly President's office -- with one of Ban Ki-moon's minders. This is Ban's UN.

From the UN's June 29 transcript:

Inner City Press: Monday down in… in Federal Court, there was a hearing for Mr. Ng Lap Seng in the ongoing case, and Assistant District Attorney [Daniel] Richenthal basically widened the case and said they're going to be… there's more things they're looking at as to Ng Lap Seng, and he also described in more detail a, quote, conduit of bribery taking place within the UN. And I wanted to know, since you've said you're monitoring it, what is the UN's response to the new information that was presented on Monday?

Deputy Spokesman: Yeah, we are aware of the latest information, and, as I've pointed out, the situation of South-South News is under review. It continues to be under review, but certainly, any new information is useful in light of that.

After the above, a corporate news wire which has a conflict of interest on this passed through South South News' claims that it has had "
no connection with any government at any level"

- this is false. But the conflicted corporate wire, with its own Permanent seat on the board of hte UN Correspondents Assocation which took money from Ng's South South News, merely passes through the denial. Call it journalism? We'll have more on this.

On June 27, former South South News reporter turned spokesperson for John Ashe and now his family wrote to the UN press corps, some of whom she saw over the weekend:

"Dear Friends and Dear UN and Media Representatives, I am kindly forwarding a Statement from the Family of the late John. W. Ashe, President of the UN General Assembly 68th Session, at the request of his widowed wife, Anilla Cherian.I have accepted to forward this Statement in my personal capacity and in honor of Ambassador Ashe's legacy as a long-serving diplomat. I will not be addressing any questions and I do appreciate your understanding.

It was very nice seeing several of you over the weekend. I hope you are all doing well."

If the goal was to distinguish South South News from John Ashe and Ng Lap Seng, this doesn't do it.

The audit deals with South South News - which as of June 27 STILL has a UN office, photo here, UNlike Inner City Press. In Ban's UN one only gets due process if one has money, or pays money, as South South News did, including to the UN Correspondents Association which then gave Ng Lap Seng a photo-op with Ban. Or as the Saudis did to get Ban to remove them from the Yemen Children and Armed Conflict annex.

On June 27 in Federal Court, Assistant U.S. Attorney Daniel Richenthal said that South South News was a conduit for bribery involving the now conveniently (and mysteriously) deceased former PGA John Ashe. (Some with links to Ashe try to erase all trace, but here is one: UNCA with AAshe's spokesperson Konja, formerly of South South News), which one wire-with-a-conflict covering this story never mentions. Compare to this.)

Meanwhile while Inner City Press can only work with minders, its office given to Akhbar Elyom's correspondent, a former UNCA presdient, sits empty and Gallach gallavants in Paris. We'll have more on all this.

Ban's audit, notably, does not mention that Ban accepted Ng's South South Award and was in the program of Ng's August 2015 event in Macau.

Nor does Ban's audit mention that his Sri Lanka adviser Vijay Nambiar and his spouse, Ban Soon-taek, were both present at the founding of the Global Sustainability Foundation; the latter took photos with South South News' indicted Vivian Wang at the UN Correspondents Association ball where UNCA gave Ng, from whose South South News it took money, a photo op with Ban himself.

On April 16, at Ban's and his USG Cristina Gallach's direction, Inner City Press' long time UN office in S-303 was evicted and five boxes of files were dumped onto First Avenue. Video here and here.

On April 20, the Free UN Coalition for Access sign on S-303 was removed (photo here) without the consent of Inner City Press' office mate, also a FUNCA member, who was told that the lock was being changed, presumably to sell the office to someone else. Inner City Press immediately objected to MALU, the DSG, Chef de Cabinet and Spokesman, putting them on notice.

And lo and behold it was given to a former UNCA president who never comes to the UN, never asks questions: Saana Youssef of Egyptian state media Akhbar Elyom. This is Ban's UN.

UNCA, at least under Giampaolo Pioli, openly tells people to pay it money, it can get them UN official space. This is corruption.

Now since the eviction of Inner City Press, South South News has sent out a press release saying that despite the guilty plea by its President Francis Lorenzo and indictment of its Vice President Vivan Wang, it is clean - and blames its problems on a "few independent journalists." Wonder who's referred to - as the other one(s).

Not Reuters, which passes through without analysis South South News' press releases - and without disclosing that Reuters' Lou Charbonneau and now Michelle Nichols have occupied Reuters' permanent seat on the Executive Committee of the UN Correspondents Association, which took South South News' money then arranged a photo op for Ng Lap Seng with Ban Ki-moon.

South South News' founding is described in the John Ashe and Ng Lap Seng indictment; it is portrayed through gauze in the OIOS audit. The name South South News has appeared in the Panama Papers.


Inner City Press on January 29 sought to cover an UNCA event held in the UN Press Briefing Room, which was nowhere listed as closed. On February 19 Gallach, without recusing herself, unilaterally deactivated Inner City Press UN residential correspondents pass, and had Inner City Press' reporter physically thrown out on First Avenue without coat or passport. Audio here.

This is called retaliation. On the afternoon of April 12, Inner City Press while with another colleague asked Ban about Gallach's orders.

"That is not my decision," Ban said quickly. He is aware; the ouster and censorship serve him, but he says it is not his decision, just as for example Sri Lanka's Mahinda Rajapaksa or higher profile censors might.

On the evening of April 12 Gallach ordered the final eviction of all of Inner City Press' investigative files on Saturday, April 16 at 10 am. This is the face of today's UN corruption.




Here is some of what the OIOS audit says, about USG Gallach:

"37. On 30 June 2015, Global Sustainability Foundation sponsored an exhibition titled "The Transformative Power of Art" in the visitors' lobby at United Nations Headquarters. This exhibition was curated by an Italian artist, whose works were displayed along with the works of other artists participating in one of his workshops.

38. Exhibitions in publicly accessible areas at Headquarters are governed by the Secretary General's Bulletin ST/SGB/2008/6, which stipulates, inter alia, as follows:

(a) The United Nations Exhibits Committee, which is an interdepartmental body of the Secretariat chaired by the Under Secretary General for Communications and Public Information [Cristina Gallach] is the standing body that reviews and authorizes such exhibitions;

(b) Any proposal originating from an NGO or foundation must be accompanied by a written communication of support from a Secretariat department or office, a separately administered organ or programme of the United Nations, an organization of the United Nations system or a permanent or observer mission to the United Nations;

(c) Exhibit proposals focusing on a specific individual, or originating from a single artist, shall not be permitted;

(d) The Exhibits Committee may, at its discretion, reject a proposal for an exhibit in part or in its entirety, or require the elimination or alteration of any part thereof; and

(e) The secretariat of the Exhibits Committee shall inform the Assistant Secretary General, Office of Central Support Services, of the authorization granted for a proposed exhibit.39. OIOS noted that the exhibition held of 30 June 2015 was not in compliance with these provisions. The Exhibits Committee did not authorize the exhibition because it did not receive a proposal in accordance with (b) above. The Chef de Cabinet of the Office of the President of the sixty-ninth session of the General Assembly informed the Exhibits Committee of the President's decision to host a series of major cultural events, which included an exhibition, reception, and concert. The Committee informed the Office of the President that the exhibition was not in accordance with the regulations for exhibits in publicly accessible areas at Headquarters, but the Office of the President decided to proceed with the exhibition anyway. Therefore, the Exhibits Committee did not accept, reject or alter the "proposal".

40. OIOS notes that the Exhibits Committee only had an advisory role in the matter, and in the circumstances described, it could not have possibly prevented the staging of the event. However, considering that the exhibition was attended by the Secretary-General and other senior Secretariat staff despite its non-compliance with the Secretary-General's bulletin on exhibits, the perception that the NGO was given preferential treatment or favour (that too without performing any due diligence checks) could have an adverse impact on the Organization's reputation. This risk is aggravated by the allegations in the criminal complaint against Sun Kian Ip group, with whom this NGO is affiliated."

While Ban's spokesman Stephane Dujarric has said this audit will not be made public until April 22, on April 6 as a full text exclusive Inner City Press published the audit while noting affiliates the UN audit omitted, and portions of the audit that some involved seem to be trying to cover up, including not only as to the Department of Public Information, but also the Global Compact and other back-doors into the UN, including but not limited to "Friends of the UN."

Beyond the Under Secretary General of the Department of Public Information's responsibility for exhibits in the Visitor's Lobby such as the one indicted Sheri Yan's Global Sustainability Foundation held on June 30, 2015, she was also in charge when GSF was allowed, without any due diligence, to on March 25, 2015 sponsor an event entitled "Unveiling of the 'Ark of Return' Permanent Memorial." Audit at Paragraph 20 (b).

Inner City Press asked the UN about DPI's engagement with the Global Sustainability Foundation around the Ark of Return in October 2015. To be diplomatic, this should have led to / required a recusal.

DPI, the audit says, was "associated" with Ng Lap Seng's and Frank Liu's World Harmony Foundation through something called the "Friends of the UN" based in Los Angeles / Santa Monica. We'll have more on this.

As Inner City Press demonstrated even before publishing the audit, the Global Compact as of April 2016 lists Ng's World Harmony Foundation as a member, despite the October 2015 indictments.

Now we note that the Global Compact, represented at Ng's Macau event in August 2015, has a representative who because not a UN staff member kept the iPad Ng's Sun Kian Ip foundation gifted. What kind of "anti corruption" UN Global Compact is this?

On April 11, after publishing the above, Inner City Press asked Ban Ki-moon's spokesman Stephane Dujarric about it, and when Ban will answer questions. Video here